Let's recap the drama from Season 3 of 'Emily in Paris'
Okay, so there's obviously a lot of drama from the last season that we need to talk about before we can dive into what to expect in the next season, right? As Lily Collins likes to put it, there was a lot of "Geometry" going on in Season 3 of 'Emily in Paris.' To say that a "love triangle" was happening is an understatement! Last season was more like a love hexagon and much more including bomb droppers!
While Camille and Gabriel were in the midst of working out the differences, Camille falls in love and ends up having an affair with a client of hers, Sophia, and gets caught making out with her on the balcony by Emily! Though Emily is dating Alfie and trying to forget about Gabriel, deep down she is really in love with him and vice versa…we could all see it, and poor Alfie was just blind to it all. Oh, and let's not forget that Mindy and Benoît, played by Kevin Dias, broke up after "Nacho" (if you know you know) aka Nicola de Leon, played by Paul Forman, waltzs his gorgeous self in the show coming in between her and Benoît.
Whew! That was quite the unpacking, but unfortunately, that's not how it all ended. In the season finale of 'Emily in Paris' Darren Star left us all with a huge cliffhanger! The wedding that we thought was going to happen (no we didn't) between Camille and Gabriel ended before it could even start. Coming clean about the pact she and Emily agreed on made Alfie call it quits with Emily…again. As if things could not get any more dramatic, Camille walks out on Gabriel leaving him at the alter during their wedding. To sum this finale up it turns out that Camille is pregnant by Gabriel! So what does this mean exactly? Are we going to have baby mama drama? Is Alfie going to turn into a bad boy because he got his heart broken…again? The truth is, we really don't know what is going to happen next season.
However, I do think it's safe to say that we can expect more twists and turns and love hexagons to happen. That just seems like the typical drama for the entire cast of 'Emily in Paris.' So then let's talk about what we do know for sure is going to be happening.
Is there a release date for Emily In Paris Season 4?
Although there is not an official release date for Season 4 of 'Emily in Paris,' according to Variety, the cast is tentatively slated to begin shooting in Paris in January 2024 with the possibility of it being released by the end of next year.
Yeah, we know that's so far out and torture to wait that long, but with the 2024 Paris Olympics happening, all filming in the city will be halted from June to September. So, we will just have to wait for the tea to be freshly brewed. In the meantime, let's circle back with some of the characters and see who may be returning.
Who will be coming back to Emily In Paris Season 4?
Well, we can surely expect a full return of Lily Collins as Emily, Lucas Bravo as Gabriel, Ashely Park as Mindy, Camille Razat as Camille, Philippine Leroy-Beaulieu as Sylvie, Samuel Arnold as Julian, and of course, Bruno Gouery as Luc.
However, there is still a question about whether we will see more of Lucien Laviscount who plays Alfie. Of course, Season 3 ended with his heart being broken again and calling it quits with Emily after learning that he was in fact not her first choice. During an interview with Elle in June, the 31-year-old said he wouldn't be against the character having a "little cheeky weekend away" in London. However, as he and all of us know it's fully up to the writers and Darren Star what will be the fate of Alfie's character.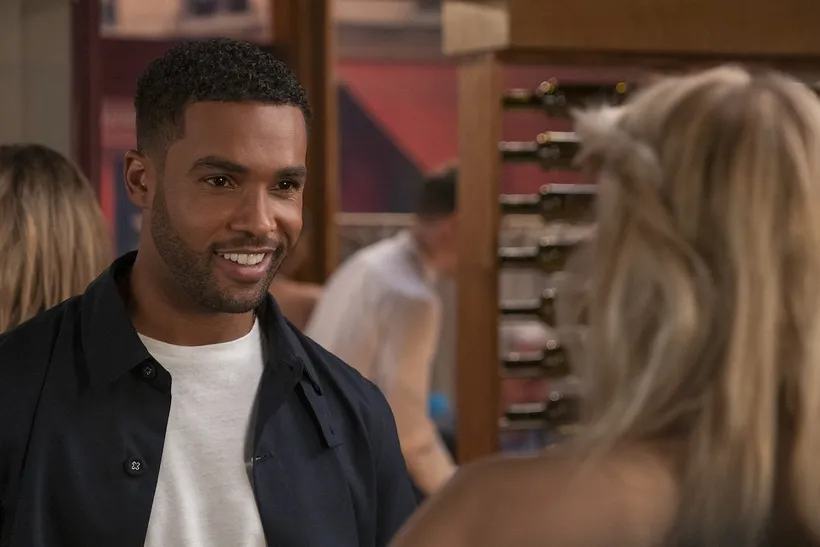 What are some of the actors currently up to amid the WGA strike coming to an end and SAG-AFTRA to resume negotiations?
We are all fully aware of production in Hollywood being halted amid the strikes and although the WGA strike is over, SAG-AFTRA is still in negotiation with studios. However, that does not mean that your favorite actors are not at work. Some of them have been lying low and enjoying their private life including Lily Collins who just celebrated her wedding anniversary with husband and film director, Charlie McDowell.
Meanwhile, Ashley Park has had much success with the release of two hits on Netflix, 'Joy Ride' and 'Beef.' The 32-year-old also appeared in this summer's digital cover of People to discuss her journey in landing a lead role to 'embracing chaos.' Camille Razat has been seen at almost every possible fashion show this summer and recently posing in designer material created by Roger Vivier. She's even taken it upon herself to start her own production company called TAZAR, and Lucas Bravo has taken part in activism fighting for the survival of our planet's ocean. The actor was recently a keynote speaker at World Oceans Day 2023 this summer.
As for Lucien…well not only is he living his best life in Antigua, but the British heartthrob has also taken part in hospitality by opening his own bar and restaurant in London. He recently appeared in an interview with Sip Global to discuss his journey in entrepreneurship and how it all started. Yeah, I know right? Did anyone else just book their flight to London after reading that?
Of course, if you want to know more about your favorite stars and what they are up to including Samuel, Philippine, Kevin, Paul, and Bruno, you can just follow them on social media. They are always posting about their latest projects and rendezvous (no pun intended there).
What to do in the meantime until we get a fourth season?
In the meantime, while we wait for a fourth season you can always watch all three seasons of 'Emily in Paris' on Netflix. Who knows, maybe you will come up with some more fandom and plot twists! Because we have all had them! Until next time friends…au revoir!